The diaper bag is packed...
The changing table stocked...
But I still look like this!
I was able to lose a lot of water weight over the weekend, which dramatically improved my chest pain. Yesterday my O2 sat was 99% and my heart rate in the 70's so I was discharged from the hospital and allowed to come home OFF OF BEDREST! Mr K and I went out for dinner last night and took a trip to Target - it was wonderful!
Today I have enjoyed doing some nesting while I wait.
I'm still having some hard contractions and spotting. The OB assured me that I made great progress on Friday, so I'm hoping things will move very quickly once I get to active labor.
Thank you all for your prayers - last week was very scary and difficult.
This cute diaper cake was a gift from one of Mr K's co-workers.
******************************************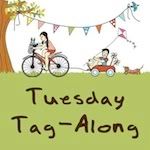 This is a great way to meet new friends in the blogosphere! Head over to
Twee Poppets
for more details.